Dr. Lorraine Thirsk
Assistant Professor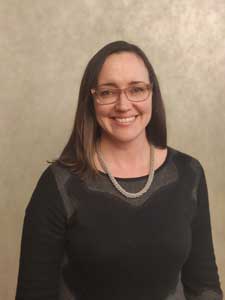 Contact
Education
PhD: University of Calgary, Calgary, Alberta (Family Systems Nursing)
MN: University of Calgary, Calgary, Alberta (Family Systems Nursing)
BScN: University of Alberta, Edmonton, Alberta (with distinction)
Scholarship and Research Interests
Family nursing interventions and outcomes in a variety of adult populations (serious, life-limiting/life-threatening illness)
Nurses' judgment and decision-making; influence of cognitive bias
Therapeutic conversations
Organizational influences on nursing practice
Mechanisms of complex interventions
Teaching and Learning Interests
Family nursing
Philosophy and theory of nursing
Research methodology
Recent Publications
Dewart, G., Corcoran, L., Thirsk, L., & Petrovic, K. (2020). Nursing education in a pandemic: Academic challenges in response to COVID-19. Nurse Education Today, 92, 104471. Advance online publication. https://doi.org/10.1016/j.nedt.2020.104471
Thirsk, L.M., & Clark, A.M. (2017). Using Qualitative Research for Complex Interventions: The Contributions of Hermeneutics. International Journal of Qualitative Methodology, 16, 1-10.
Clark, A. M., Wiens, K. S., Banner, D., Kryworuchko, J., Thirsk, L., McLean, L., & Currie, K. (2016). A systematic review of the main mechanisms of heart failure disease management interventions. Heart, 102(9), 707-711.
Clark, A.M., Thirsk, L.M., Wiens, K.S., Ski, C.F., Thompson, D.R. (2015). How to research the mechanisms of non-pharmacological cardiac interventions. International Journal of Cardiology.
Thirsk, L.M., Moore, S.G., & Keyko, K. (2014). Influences on clinical reasoning in family and psychosocial interventions in nursing practice with patients and their families living with chronic kidney disease. Journal of Advanced Nursing. 00 (0), 000–000. doi: 10.1111/jan.12370
Thirsk, L.M., & Clark, A.M. (2013). What is the 'self' in chronic disease self-management. International Journal of Nursing Studies. Retrieved from http://dx.doi.org/10.1016/j.ijnurstu.2013.10.008
Thirsk, L.M., & Moules, N.J. (2013). "I Can Just Be Me": Advanced Practice Nursing with Families Experiencing Grief. Journal of Family Nursing, 19(1), 74-98. doi: 10.1177/1074840712471445
Clark, A.M., Briffa, T., Thirsk, L., Neubeck, L., Redfern, J., (2012). What football teaches about how to research complex health interventions. British Medical Journal, 345, e8316. doi: 10.1136/bmj.e8316
Thirsk, L.M., & Moules, N.J. (2012). Considerations for grief interventions: Eras of witnessing with families. Omega: Journal of Death and Dying, 65(7), 107-124. doi: 10.2190/OM.65.2.b
Moules, N., MacLeod, M., Thirsk, L., & Hanlon, N. (2010). "And then you'll see her in the grocery store": The working relationships of public health nurses and high priority families in northern Canadian communities. Journal of Pediatric Nursing, 25, 327-334.